Alla luce di Palladio, VICENZA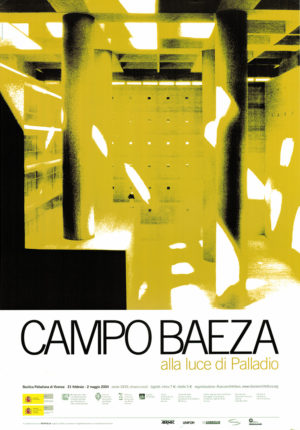 2004.02 Alla luce di Palladio Palladian Basilica VICENZA
A selective exhibition of projects and works of the architect Alberto Campo Baeza, with the title "Alla luce del Palladio", opens on next 20th February in the Palladian Basilica in Vicenza,
The Basilica is one of the most singular and admired Palladio´s works. In the last years this building has also welcome exhibitions of famous architects like Alvaro Siza, Tadao Ando or Steven Holl. An exhibition of a Spanish architect takes place for the first time.
Manuel Blanco is curator and designer of the exhibition, that will show a dialogue between the Light in Palladio and the Light in Campo Baeza.
The exhibition takes an overview of Campo Baeza´s work through vibrant images and models, and particularly worth highlighting is the singular model almost four meters high of the Tower for Telefónica in Madrid. Or the sketches and models of his most recent project, a new house in Garrison, New York. And the huge space of the Caja General de Granada, or the small De Blas house and the new offices for Editorial SM in Madrid. The outstanding project Between Cathedrals in the center of Cádiz is also included.
PALLADIAN BASILICA
Piazza dei Signori
VICENZA – ITALY
www.campobaeza.com