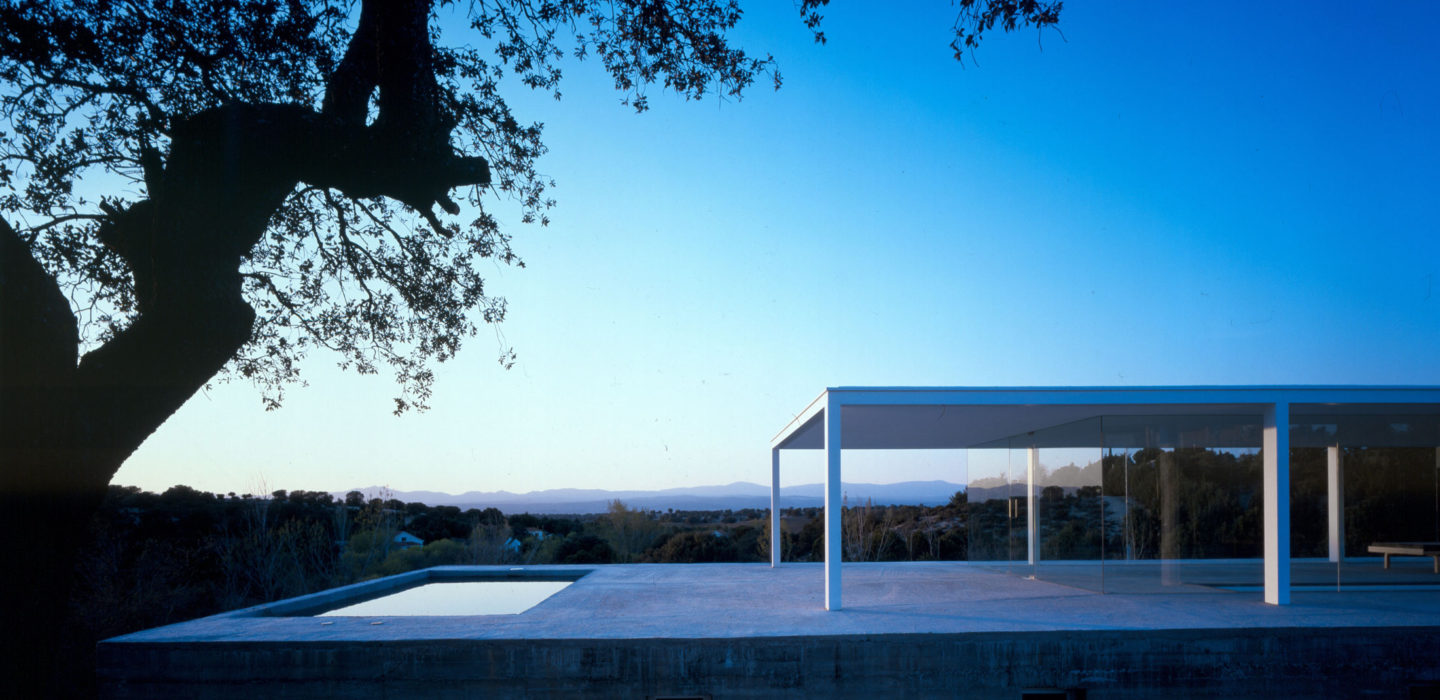 This house is a response to its location: on the top of a hill, southwest of Madrid, with splendid views of the mountains to the north.
A platform was created to settle upon: a concrete box the podium on which a transparent glass box was placed, delicately covered with a light and simple structure of white-painted steel.
The concrete box, rooted to the earth, houses the program with a clear schematic distribution: a service strip to the back and the served areas to the front. Inside, square windows are opened, framing the landscape as a distant view.
The glass box on top of the platform is a lookout-point, to which one rises from within the house. From this vantage point, the landscape is underlined so that it appears closer.
The glass box, without carpentry under the metal structure, extends almost to the edge of the northern facade and is setback on the southern facade to provide shade. Below, a "cave" is a space for refuge. Above, the cabin, a display case, is a space for contemplating nature. The double symmetry in the composition of the columns lends the house a still and serene character.
The house is intended to be a literal translation of the idea of a tectonic box supported on a stereotomic box. It is a distillation of the most essential in architecture. Once again, more with less.
Technical data
Architect:
Alberto Campo Baeza.
Location:
Sevilla la Nueva, Madrid, Spain.
Client:
Francisco de Blas Zabaleta.
Project:
1999.
Built:
2000.
Area:
300sqm.
Collaborators:
Raúl del Valle González.
Structure:
Mª Concepción Pérez Gutiérrez.
Quantity surveyor:
Francisco Melchor Gallego.
Contractor:
Siete Encinas (Juan Sáinz).
Photographer:
Hisao Suzuki.