Light is more, NEW YORK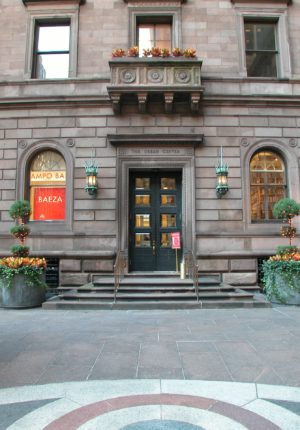 2003.09 Light is more Urban Center NEW YORK
Press release CAMPO BAEZA, Light is More
The exhibition Campo Baeza, Light is more opens on 3 September at the Urban Center in New York.
Alberto Campo Baeza is one of the most singular architects on the international panorama with a body of work distinguished by his masterful use of light.
His spectacular houses have graced the covers of architecture magazines across the world.
His command of pure forms, scale and proportion are combined with an economy of means that have led him to enounce his own particular dictum: More with Less. Achieving the maximum, most spectacular effect with the minimum number of elements.
His original drawings, spectacular photographs and maquettes are being presented in New York in one of the most architecture centers in America, the Urban Center, located in the Villard Houses by McKim, Mead & White [1884], at 457 Madison Avenue, and which, together with the contiguous block with St. Patrick's Cathedral, forms one of the most important historical sections of Manhattan. Its galleries and its famed library are real meeting places for American architecture, and are run by the prestigious Municipal Art Society.
The exhibition "Campo Baeza, Light is More", curated and designed by Manuel Blanco, constructed with elements of light and glass, shows the architecture of Campo Baeza as brilliant images superimposed on the façade of one of the main architectural landmarks of New York. The exhibition takes an overview of his work through vibrant images and maquettes, and particularly worth highlighting is the singular maquette almost four meters high for the Tower for Telefónica in Madrid, before centering on three outstanding recent projects:
The Caja General de Granada, a splendid space of glass and alabaster, a light box under the hill of the Alhambra. The De Blas House, a belvedere in the landscape of the sierra, with a masterful control of the scale giving the measure of man. The competition for the Mercedes Benz Museum in Stuttgart, an innovative concept of museum, of a space in movement.
Campo Baeza is Full Professor of Projects at the Escuela de Arquitectura de Madrid since 1986, and is one of most widely recognized Spanish architects internationally.
He has lectured widely in schools in Zurich, Lausanne, Naples, Dublin, Philadelphia, the Bauhaus in Weimar, and the ITT of Chicago among others, and he is currently finishing a book of texts in English as Visiting Scholar at Columbia University in New York.
The title of this exhibition "Light is more" makes reference to Mies van der Rohe's "less is more" and sums up the importance of light in the work of Campo Baeza.
The exhibition Campo Baeza. Light is more is curated and designed by Manuel Blanco, Full Professor at the Escuela de Arquitectura de Madrid.
The graphic design of the book was created by Roberto Turégano.
The exhibition is being presented at the Urban Center in New York by the Ministerio de Educación, Cultura y Deporte with the collaboration of the Cervantes Institute.
URBAN CENTER BOOKS
457 MADISON AVENUE
NEW YORK, NEW YORK 10022
www.urbancenter books.com