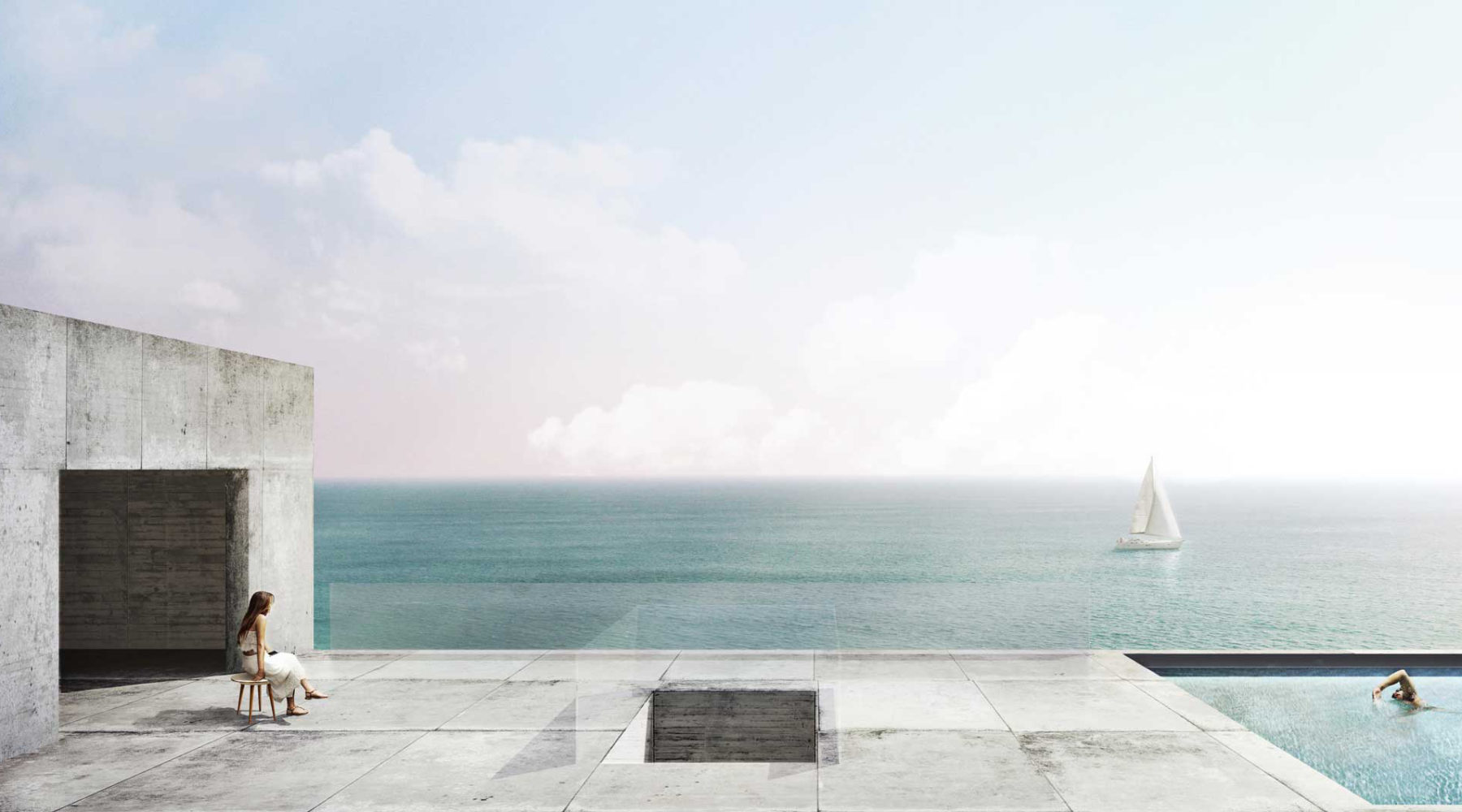 An attempt once again to make the most beautiful house in the world.
To design a house in an almost incredible, almost impossible place, on top of a rocky hill, facing the Atlantic Ocean, overlooking the Playa de los Alemanes (the Germans' beach) in Tarifa, one of the most beautiful landscapes of the Cadiz coast. It is not surprising that when the Romans arrived there, they settled in the nearby cove of Bologna. It is all so beautiful!
After visiting the steep site, and carefully studying the various possibilities, we decided to create a grounded vessel. A poet would have called it a bateau îvre. A striking, imposing piece in concrete in the same color and texture as the rocks that embrace it.
A program for a large house, which can be joint or separate, as, desired.
The structure is linear, around a "comb" scheme, always looking out to sea, vertebrated by two staircases.
On the upper floor, a large living room with a great panoramic window facing the ocean. On the opposite side, a large window opening onto the rocks with a window-ledge table. The room extends into a generous covered and open side porch, with an oculus whose light makes this space tangible.
On this floor, a rooftop that we dream of as an open and uncovered room, where the parapets are transformed into large tables from which, as from the control bridge of a ship, one enjoys a privileged view. On the ground floor below is the bedroom wing.
The solid volume is pierced at various points with open covered porch spaces. The windows will be flush with the structure, attempting to disappear. In some places, rather like a bird observatory, to look at the infinite.
There is an air of great sobriety about this house. It will be surrounded by climbing plants, vines, jasmine, bougainvillea and asparagus, merging it even more closely with its natural environment.
Technical data
Architect:
Alberto Campo Baeza.
Location:
Zahara de los Atunes, Cádiz.
Client:
Private.
Project:
2017.
Area:
750sqm.
Collaborators:
Alejandro Cervilla García, Ignacio Aguirre López, María Pérez de Camino Díez, Elena Jiménez Sánchez, Tommaso Campiotti, Francesc Abajo.