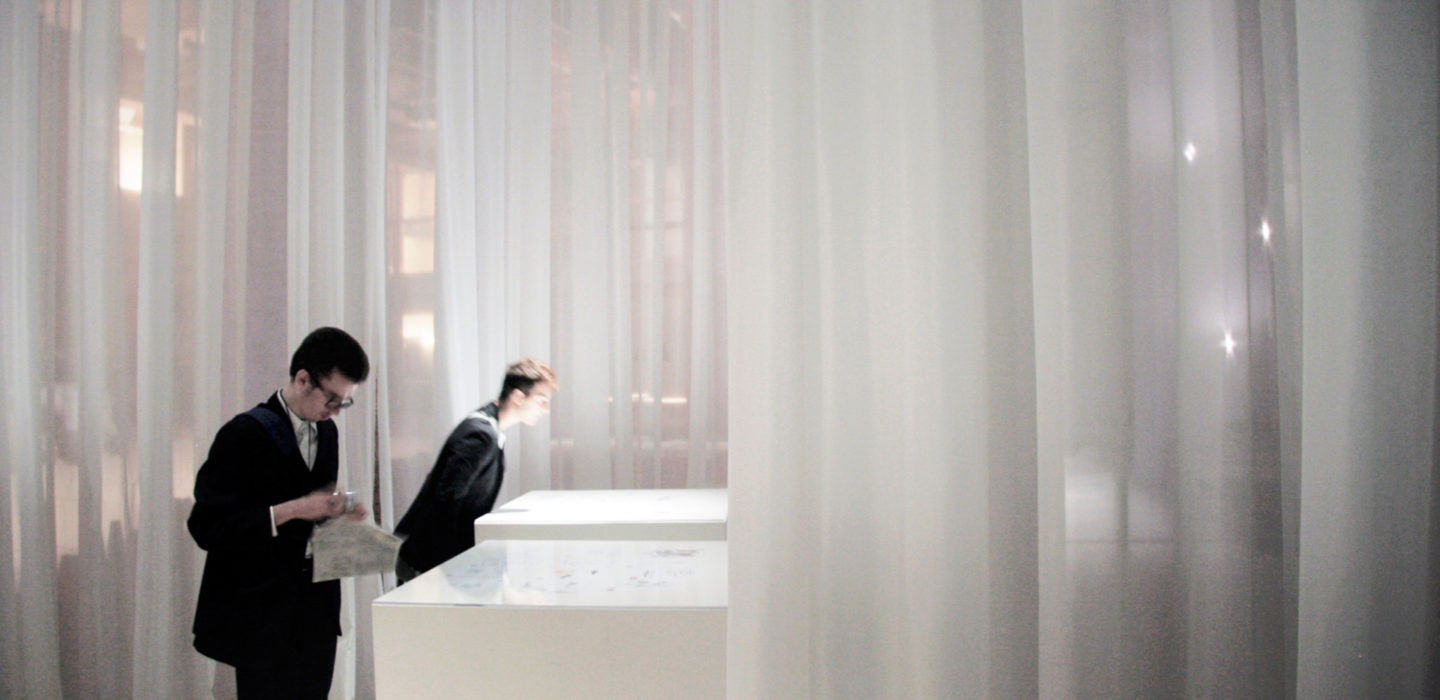 PAVILION FOR THE XIII VENICE ARCHITECTURE BIENNALE
WHITE SMOKE
In response to David Chipperfield's kind invitation to participate in the Venice Biennale of Architecture 2012 and following a series of amusing episodes, with the angle I was given at the Arsenale, I decided to make a column of white smoke that we privately called by another name but which I cannot write here. That's why I call it white smoke as a clear signal that something good has happened: the fact that a handful of super young architect-friends of mine are exhibiting their drawings at the Venice Biennale, alongside those of distinguished architects, geniuses, masters of their craft.
My project consisted of a column with a curtain of fine white flounced silk which, in the form of Mies van der Rohe's Glass Skyscraper of 1922 and the materials of his Velvet and Silk Café of 1927, would become a fascinating haven. From the outside our attention would be attracted by a column of light thanks to strong interior lighting within the white silk curtain.  Inside under that light, my friends' drawings on white cubes, one each, on a single theme: the house.
They were all there: the geniuses, the masters and the younger set. All magnificent architects.
The central theme of the Biennale was common ground. And it is my understanding that Memory is the common ground of all architects and of all the creators there have been in the world.  David Chipperfield suggested that I should focus on the theme of the house. My white smoke with the memory of so many fine architects with their drawings of houses  was to become what Saint Augustine described as the "halls of memory, where are stored as treasures the countless images that have been brought into them from all manner of things by the senses".
So this common ground of architects, this Memory, was what I was to keep like a closely guarded secret and present like a treasure, within my Miesian white column. A corner of silence and calm at the heart of the hustle and bustle of the Venice Biennale.
Technical data
Architect:
Alberto Campo Baeza.
Location:
Venice, Italy.
Client:
The Biennale.
Project:
2012.
Photographer:
Javier Callejas, EACB.